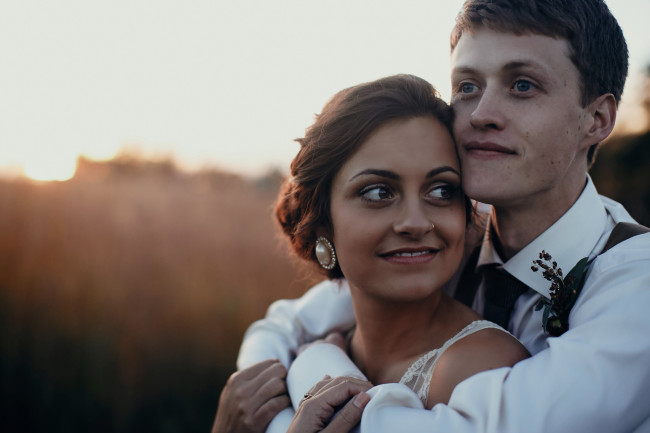 Emma + Micah got married in October at the DeNovo Barn in Decorah, Iowa.  It was a gorgeous fall day, maybe a little windy, but all in all, great for October. I met Emma and her bridesmaids early in the morning and got to spend the whole day documenting her beautiful wedding! It started at a little cabin overlooking the bluffs, where Emma had a close friend do her hair and makeup.  The bridesmaids got themselves ready as they all talked and laughed together.  Micah and his groomsmen were just across the field in a cabin of their own.  They spent the morning playing yard games and just hanging out together.
Em's dad came and picked us all up and drove the girls to the beautiful Amish-built barn venue.  Emma and Micah had decorated the place with a vintage vibe. Emma's dress was actually a dress from the 1970's that was altered.  Pretty dang cool if you ask me! This wedding was definitely one of the highlights of 2015 for me!  Micah is a talented potter(check out his work here), so there were handmade vessels holding all the floral centerpieces that were made by her maid of honor.
The wedding was very personal and simply stunning! It was great to be a Decorah Iowa wedding photographer for the day! DeNovo Barn is a wonderful venue, and I'd happily return to shoot there again some day! Here are some of my favorites from Emma and Micah's vintage-inspired wedding day!
Enjoy!