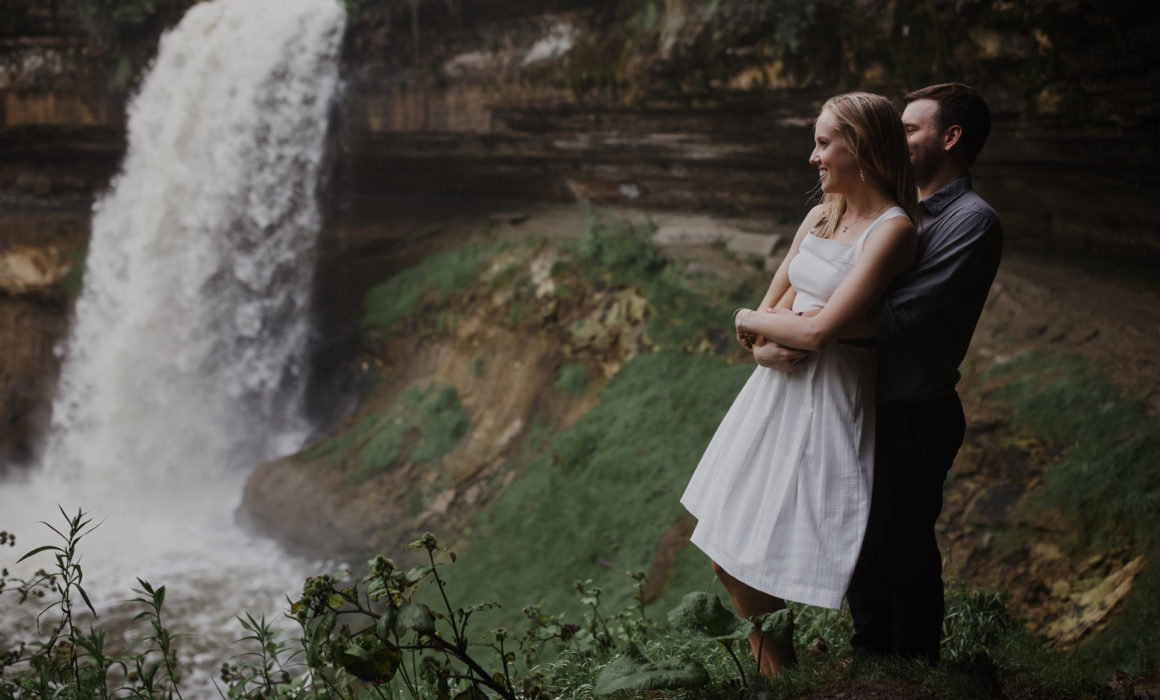 I'm so excited to share Chloe and Peter's Minnehaha engagement photos! They're such an awesome couple! First of all, Chloe + Peter are a pair of really intelligent, really adventurous, and really super fun people.  Whew! That's a lot of really's!
They live in Iowa, where they're both currently applying for residencies in their respective pediatric fields.  Chloe in medical, and Peter in dental.  Like I said, they're smart people. They actually met in Chemistry class their freshman year of college. Chloe says that before they met, they were assigned to edit each other's lab reports.  She picked his apart. He made one single mark on hers.  She said she "was appalled to find out how cute he was!" haha.  What a way to meet your future husband!
When planning their engagement session, Chloe asked me if there was anywhere that I hadn't shot yet that I thought would be a great location. She wanted somewhere outdoorsy that we could explore together.  I've been really into waterfalls lately, so I immediately thought to suggest a Minnehaha engagement shoot. Chloe and Peter agreed that Minnehaha was the best place for their session, and jumped through quite a few hoops to attain the right permits.
Eventually, Chloe got the okay, so we met up at the falls for a super fun evening of adventuring. The park is always busy, so we had lots of onlookers and people coming up and saying "congratulations!" We even saw a couple people walking around and taking photos with their pet snakes. I HATE snakes, and maybe had a small heart attack, but I held it together, and just took a little break until the snakes were gone.
We followed some paths that were not the most clear, and I fell down more than once. I only had a few new bruises the next day.  Luckily, Chloe and Peter did not take after my clumsy example. So Chloe's white dress stayed perfectly clean.
Anyway, I hope you love their Minnehaha engagement session as much as I do! I can't wait to shoot their wedding in Iowa next summer! It's going to be an absolute blast!