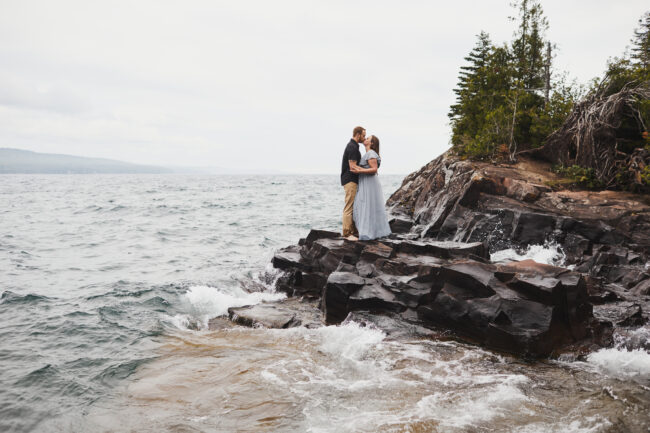 I've always wanted to shoot a Grand Marais engagement session. So, I was SO SO stoked when Ashley and Cody asked if I was willing to make the drive up to Grand Marais for their session. Luckily, my family was already planning a camping trip up in Grand Marais! Ashley and Cody agreed to be up there at the same time, so we put it on the calendar.
When I showed up to our Grand Marais engagement session, it was wet and rainy and dreary. So, we met up at their favorite coffee shop in town for some warm drinks before heading out to shoot. By the time we got through the line, the rain had cleared. So, we headed out for a walk around town, warm drinks in hand.
We walked around the bay, and ended up at World's Best Donuts. Ashley told me how she used to take yearly family vacations up to Grand Marais. Her dad always stopped and brought them donuts at World's Best. I had never tried them, so of course, we all got donuts. I let Ashley pick mine out, and it was fantastic. It definitely holds up to its name.
After that, we made a quick stop to change, and then we headed up to Artist's Point. They showed me their favorites spots and where they always take a selfie each time they visit. Of course, we took a photo in the same spot.
Gosh, I had such a great time with these two! They were so open and fun to be around. Toward the end, they even took off their shoes and stood on the rocks getting pummeled by waves. Lake Superior always has VERY cold water. They laughed and grimaced every time a wave hit their toes, but they embraced it anyway! Now they have those memories and gorgeous photos to show for it!
Ashley and Cody, thank you for trusting me, for adventuring with me, and for having a Grand Marais engagement session! I will remember it always!