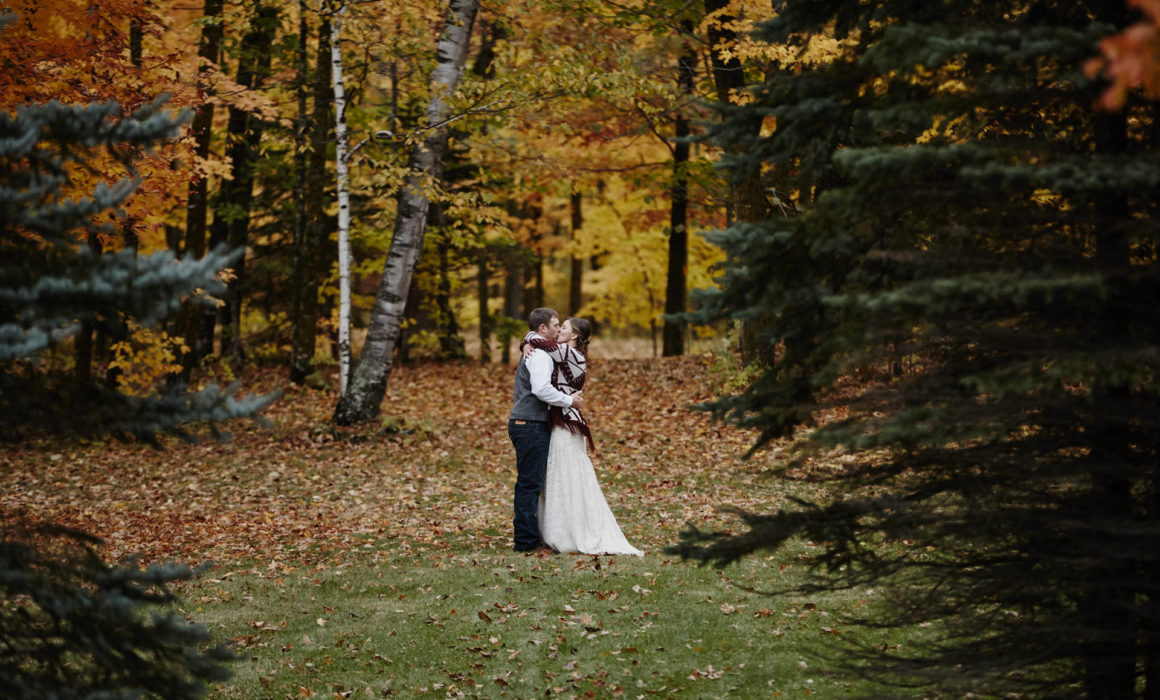 Leona and Mike had such a cool wedding at Maplelag Resort in Callaway, MN. It was the perfect place for them. Leona + Mike live on 40 acres of land. They love the outdoors and the quiet lifestyle it lends itself to. BUT they also know how to have fun. Leona grew up in New Jersey, and we all know Jersey likes to party. So it was important that they had a place where all their family and friends could come from all over the US and celebrate with them, and not have to worry about finding lodging. Maplelag Resort delivered everything and then some. A beautifully scenic location, all the lodging you could possibly need, and a great big dance floor. Not to mention delicious food and homemade cookies always out for the taking.
Now, let me tell you about the bride and groom. The first time I met them in person was at their home right around Christmas 2017. They wanted to do their engagement session at their home and around their property. They had a Christmas gift for me! A bottle of red wine from a local winery for me, and a crowler of beer from one of their favorite local breweries for my husband Ben, who happens to be a brewer himself. It was so very thoughtful. And as I've spent more time with the two of them, that it the one word that continually comes to mind to describe them. Thoughtful.
Each interaction was intentional and made me feel like I was part of their family. At the wedding, they even gave Ben and I the most darling little caboose to sleep in. When checking in, the Maplelag Resort employee said "Woah. you must be special if they gave you the orange caboose!" Later we found out that the bride and groom were staying in the red caboose right next door. Leona said that most of the lodging had shared spaces. They wanted to make us feel comfortable, and give us a fun little weekend away, so she gave us the nicest, most private lodging. So so sweet!
I'm so grateful to have met these two beautiful people, and so thankful that they chose me to capture their wedding day at Maplelag Resort. Leona and Mike included some unique things into their wedding day. Instead of a unity candle or sand ceremony, they each took a jar of dirt from their childhood homes and poured them together onto a tree that they planned to plant at their home together. They also mixed up the entrance into dinner with a New Orleans-style second-line wedding parade with a live jazz band. SO fun. Take a look at all the beautiful moments in these photos, and please leave a comment to let me know what you think of their gorgeous fall wedding at Maplelag Resort!